Ladies and Gentleman,
I took my 2012 Hyundai Elantra Limited with the Tech package on a road trip. My first road trip was when the car only had 200 miles on it. I wasn't expecting much because of the low mileage on the car. I averaged 33 mpg on that trip (PA to Vermont 400+ miles).
However I just took a trip from Burlington, VT to Albany, NY this past week. And boy was I impressed. I decided on my way back to Burlington from Albany I would take pictures of mileage alone the way and explain the speeds I was traveling and terrain. My MD had about 2200 miles when this trip was started.
This trip was done
without
and I repeat
without
the ECO mode on. I decided to reset my average MPG on the dash when I left Albany because while I was in Albany I was driving around in the city and such so it originally decreased my beginning trip average MPG to 34 MPG.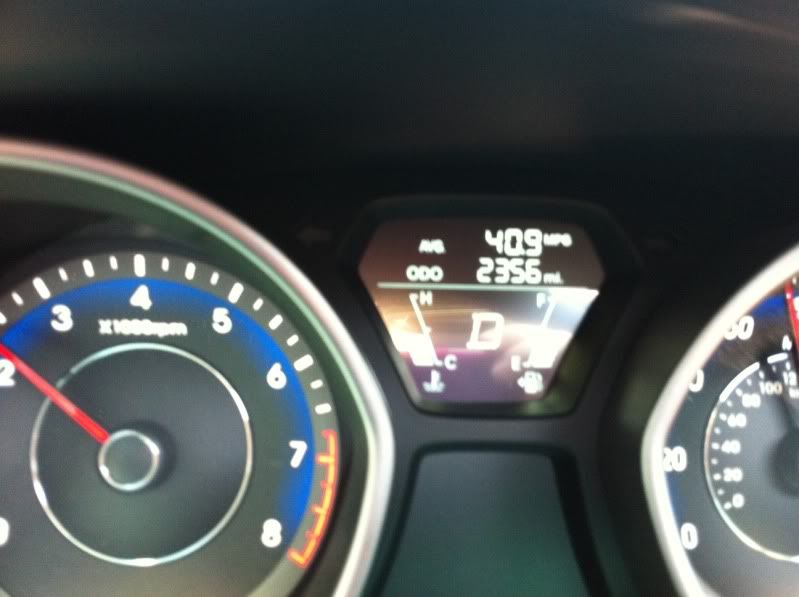 This picture was taken at the start of the trip. I originally said to myself, "I just reset it, it's not going to stay there." Blah, blah, blah. However I decided to play with traveling at different speeds.
Here is my breakdown:
64 mph or under will get you 40 mpg at least on the highway (flat surface)
65-70 mph will get you about 37-38 mpg
80+ mph will get you about 33 mpg
This breakdown was determined without much use of cruise control and here's why. I will only use cruise control on a flat surface. (Tip 1) I will turn it off when a down hill or uphill is coming, even if it is slight uphill. I use the downhill to my advantage. If you leave the cruise control turned on, it will use less gas however it doesn't let you gain speed. It will try and hold the car back to keep it at that speed. Therefore, you aren't using gravity to your advantage. (Tip 2: Turn the cruise control off on downhills.)
Now let's talk about uphills and cruise control. We all know any kind of incline kills the gas mileage in the MDs. There are plenty of inclines in upstate NY and VT and I still got 40 MPG! Tip 3: Turn the cruise control off about 0.5 miles before any incline on the highway. If you leave the cruise control on during an incline, the car doesn't know how long the incline will last or how steep it is so it will shoot the RPMs way up (3200+) to maintain the cruising speed even if it's a slight incline. This equals a gas mileage killer. So to fix this, the driver knows how steep the incline is and how long it will last therefore the driver can control the RPM's and speed. Every time I encountered an incline, I would increase my speed only about 5 mph prior to the incline. This barely increases the RPMs and you make it up the incline. So what if you loose a couple MPH while going up the incline, you are still maintaining the best MPG possible. It is important to watch your RPMs here because you only want them to slightly increase, you do not want to JUMP UP to 3000+ rpms on an incline.
Now you make think this is common sense or I am full of crap. However I felt I should share my 40 MPG story since most MD owners are saying it is un-achievable.
Below are more random pictures of mileage while I was driving.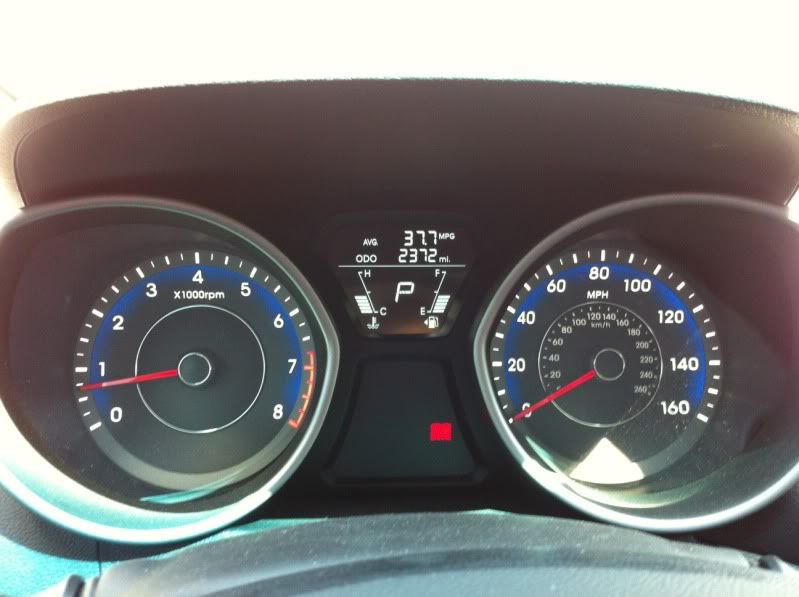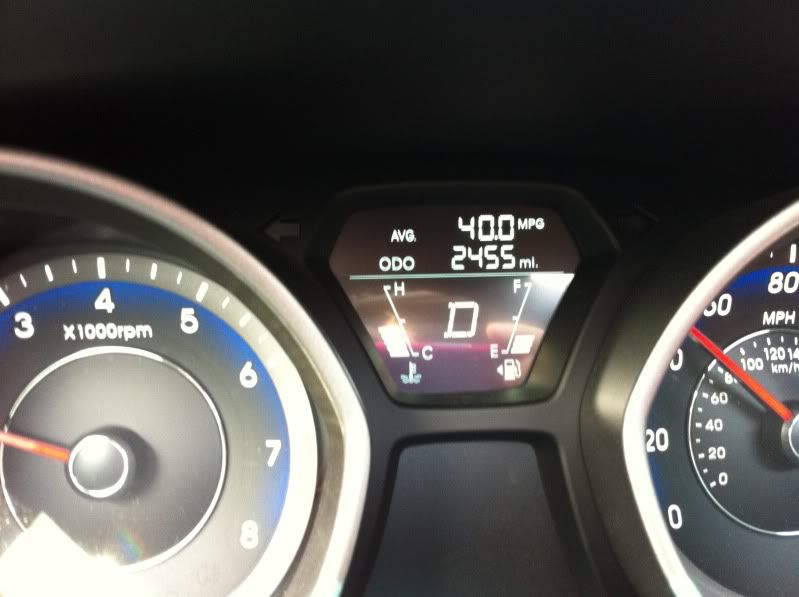 Final MPG was 39.1 MPG according to the car. I still have yet to fill up and do the correct calculation because I still have 50 miles at least in the tank.The last 15 miles were full of stop lights every few 100 feet. After every stop light (complete stop), I accelerated slowly. I didn't put the pedal to the floor or anything like that.
Main points from this post:
1) 40 MPG is reachable without the ECO mode
2) Only use cruise control on a true flat surface
3) Turn off cruise control on downhills
4) Turn off cruise control on any inclines.
Thoughts, comments and feedback would be greatly appreciated.