Hello!
I'm a newcomer in case you had not noticed (lol). My name is Xion and well, I stumbled across this place when looking for performance parts for my Elantra. I figured I'd join and see if I can cash in on some juicy useful info.
Anywho, here is a bit about me and my Elantra.
-=My Brief background story=-
I'm currently twenty one, and when I was younger I was saving up money and looking for a decent yet affordable car I could roll around in. Just like all other young people, I was looking for something "Sporty" that would turn heads... but I was only working with $2000. And unlike others around my age, I didn't have any help from parents or family members. Anyways, I stumbled across this Silver Elantra this Arab guy was trying to sell for $1,500. When I asked why the price was so low, he told me what anyone would call a "Typical scam story"; "oh I need the money to go back overseas". Still though, I had a mechanic come out and check it from bumper to bumper and he found NOTHING wrong with it. I instantly snatched up this offer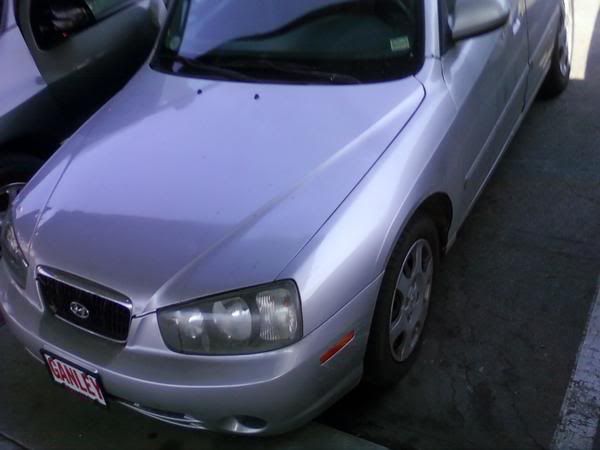 The first couple months with this baby was great! It had much more pickup and go than my dads old beatup Saturn wagon, though it was no sports car. Everything with this car was great until i made a decision that changed my opinion of this car all together. I got involved in the racing scene. It was fun at first, but that all started to change when you begin loosing a lot because of all the newer cars outperforming you (Keep in mind that at this point I was completely stock and had no idea about aftermarket parts). At this point, I wanted to sell my car.
As I got older though, I began to realize that I don't need to sell my car and get a faster one if I want more power, I just need to work on what I already have. Also after market pieces are expensive, however much cheaper than buying a whole new car I'm sure. So I believe I'm going in the right direction here.
-=My Modification thus far=-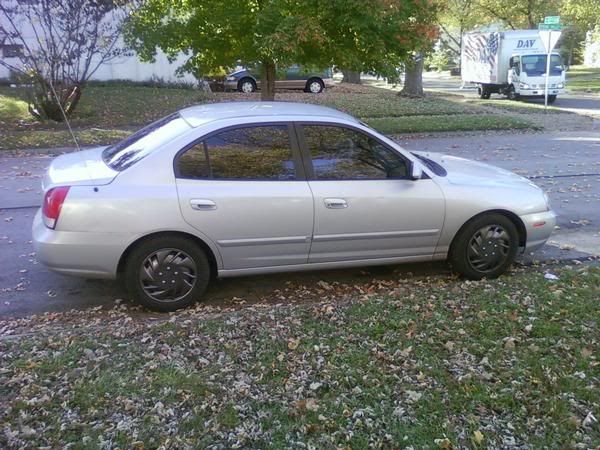 -Tinted Windows. 15% in front. 5% in back
-Black Wheel Covers
-Black Neon light in back window.
- in dash CD/DVD player
Folded in
Flipped out
- 10" Boss Trunk speakers and Sub
Those are all the mods I have thus far (Yes I know they are lightweight modifications), but I plan on doing a LOT more with this car. However the problem is that I'm not sure what I should do as far as performance goes. I want to add lots of hp if its possible. And I was hoping to get that info from someone here who has already modded their Elantra. Anyways, feel free to send me a message with some advise, or e-mail me.