Printable Version of Topic
ElantraClub - For Elantra Owners and Enthusiasts _ Member's Mod Lists _ Jess's XD2
Posted by: Jessie Apr 9 2012, 03:04 PM
2005 Hyundai Elantra GLS
Automatic
2nd owner
Bought at 40k miles in October of 2009
Currently at 90.7K miles

Current mods:
Clear corner headlights with chrome bulbs.
Clear sidemarkers.
Clear doormarkers.
Flat black grille.
Tint 55% sides 35% rear (Legal limit in VA, but thinking of redoing it and going darker.)
Debadged.
Redoing third brake light mod in a different fashion soon
NGK wires/Iridium Plugs
Shorty antenna.
19.2mm (Green Dot Tiburon Rear Sway Bar)with Moog endlinks.

Currently on the way:
Waiting for the shop to call me about scheduling a day to fix hail damage. ):

Next on the list (unspecific order):
OEM Fogs (asap)
Coilovers by (hopefully) the end of May.
SRI
LED switchover.
Red LED gauge cluster.
HID conversion.
E-brake/Auto shifter mod.
Rear disc swap.
Lowering springs.
Motegi rims.
Taillight blackout mod.
Rear Window spoiler/Trunk spoiler.
Lip kit of some sort.
Black matte vinyl wrap? (Summer)

And before anyone says anything, I know I need rims. Pretty badly. But considering I am attending my third college, I will continue to be a broke college kid and those plus a paint job will have to wait. Until I get a job while at college, there isn't much I can do but cheap mods (Thus just flat blacking the steelies and hubs).




Before the shorty Antenna.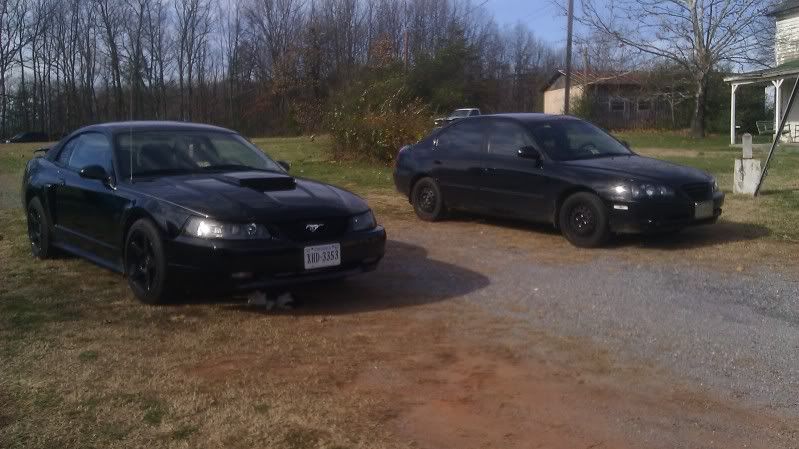 Changing out the Sway bar. Before:


After:



Here's the most recent photo of how he stands today: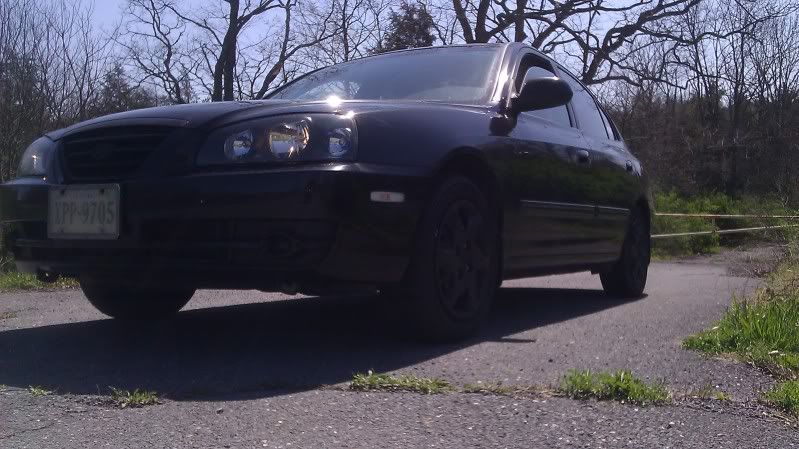 ...
With hail damage on the roof: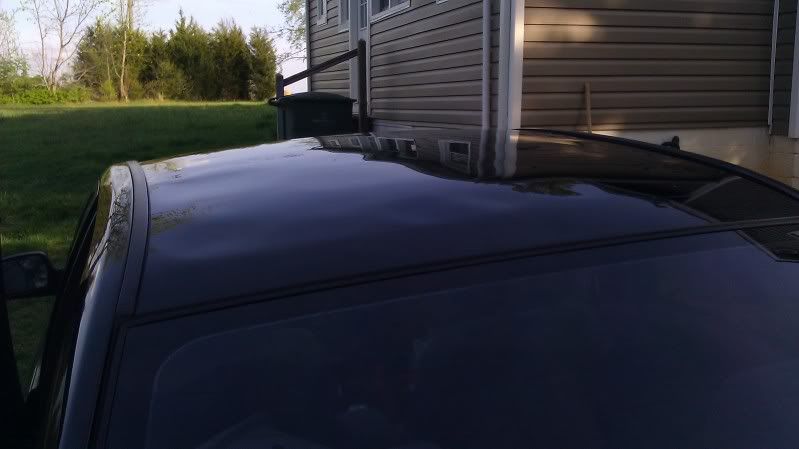 Posted by: elantragt Apr 9 2012, 03:48 PM
Hey Jess just letting you know this part of the forum is sort of an archive, although from time to time people post here.

We have a Gallery where you can post pics in your member album and a Garage to post detailed info on your mods.

Nice car by the way.
Posted by: benman Apr 9 2012, 04:07 PM
Really nice -- I love the all-black look. Glad to see tail lights mod was on the todo list. I think that will make a big difference.

Posted by: Jessie Apr 9 2012, 04:09 PM
QUOTE (elantragt @ Apr 9 2012, 04:48 PM)
Hey Jess just letting you know this part of the forum is sort of an archive, although from time to time people post here.
We have a Gallery where you can post pics in your member album and a Garage to post detailed info on your mods.
Nice car by the way.
Sorry about that! I edited my first post for you.
But thanks! (:
Posted by: elantragt Apr 9 2012, 04:37 PM
You didn't need to delete your stuff...
I was just letting you know about some other options we had at the club.

Posted by: Jessie Apr 9 2012, 05:16 PM
QUOTE (benman @ Apr 9 2012, 05:07 PM)
Really nice -- I love the all-black look. Glad to see tail lights mod was on the todo list. I think that will make a big difference.
Thank you! I wasn't trying to go for the blacked-out look, but it just happened that way. I, too, think that once I black the tails to blend better it will change the look overall for the better. Now to find a way so that VA cops don't make me undo it.
QUOTE (elantragt @ Apr 9 2012, 05:37 PM)
You didn't need to delete your stuff...
I was just letting you know about some other options we had at the club.
Im sorry, I misunderstood. It's all back up.
I have a garage that I'm still working on adding all of the mods to.
Posted by: elantragt Apr 9 2012, 05:46 PM
Cool.
Posted by: silversharkXD2 Apr 9 2012, 06:04 PM
HOPE YOU GET THAT HAIL DAMAGE FIXED BEFORE MY MEET
Posted by: Jessie Apr 9 2012, 06:52 PM
QUOTE (silversharkXD2 @ Apr 9 2012, 07:04 PM)
HOPE YOU GET THAT HAIL DAMAGE FIXED BEFORE MY MEET
just so you know, i have the money ready. now it's waiting for the guy to have time to fix my car! (:
Posted by: RPW00Mirage Apr 9 2012, 07:41 PM
love it all black out!

Posted by: bhorste Apr 9 2012, 08:21 PM
Looks really nice! Welcome to the Club!

Posted by: Alex2011Sonata Apr 9 2012, 08:50 PM
Welcome to the club man! The car's looking great, and don't worry, we all understand what its like to be a dollar short and a day late with a mod list 10 pages long. You've done a great job so far.
Posted by: ronjr8102 Apr 9 2012, 10:46 PM
Welcome to the club.
Car looks nice, clean. You will find a lot of us (especially me) with a wish list that is bigger than our have done list.


Posted by: Jessie Apr 24 2012, 09:01 AM
Thanks guys! I try to keep it minimal at this point, only because if I start something big I'd like to be able to finish it around the same time. Coilovers, OEM fogs, and rims should be next, considering the guy who was going to fix my hail damage isn't available for a while.

Meaning I'll also probably have the damage at the Pittsburgh meet this June.
Here's a photo I was able to get of some of it on the hood.



And then here's just some shots of the rear. Taillights are being blacked out soon, just waiting on someone *cough* hyundave *couch* to not be so busy to send me some load equalizers so I can pop some LEDs in there. I'm not in a rush to do it, though. (: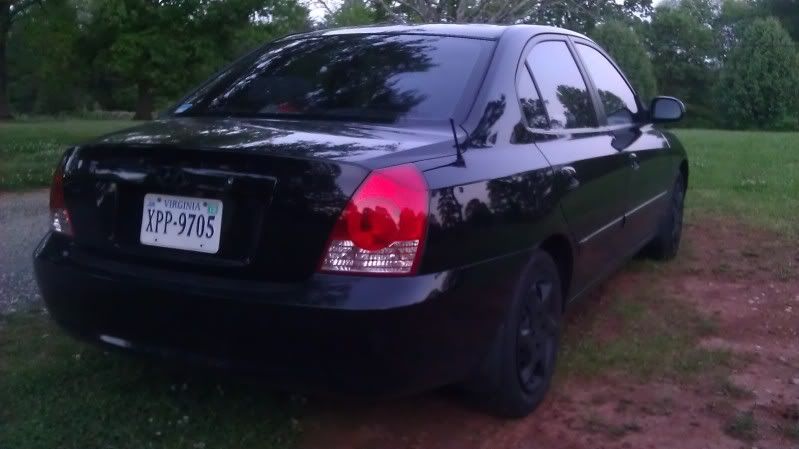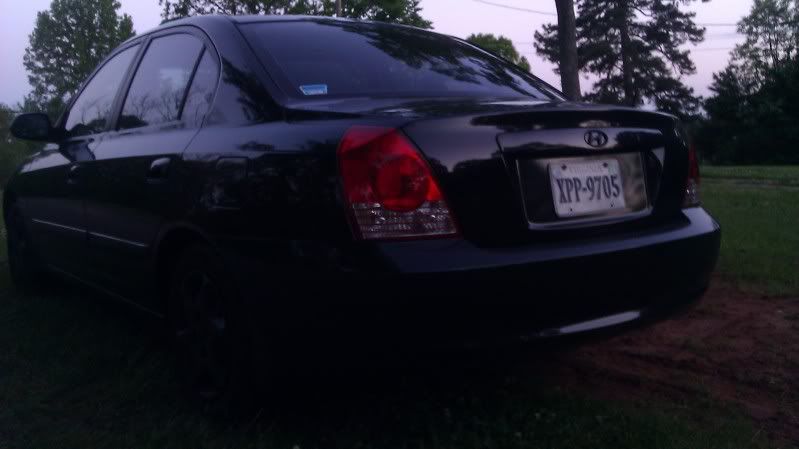 And then just some miscellaneous shots.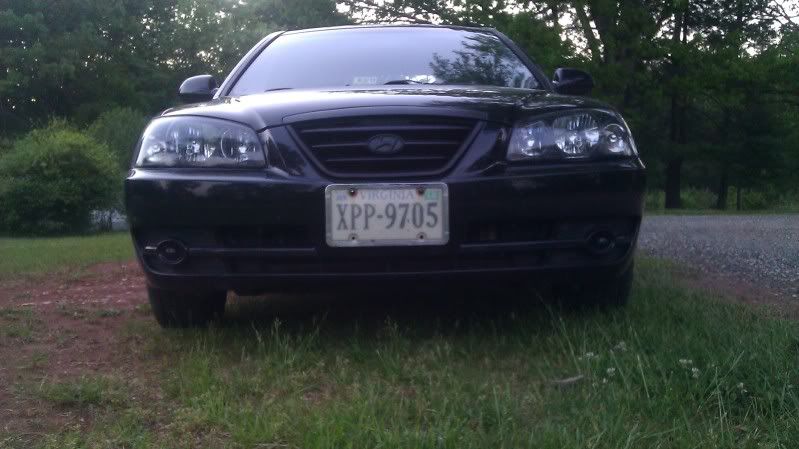 I can't wait for it to get low! (: Just like the shorty, lowering is necessary. I see it now.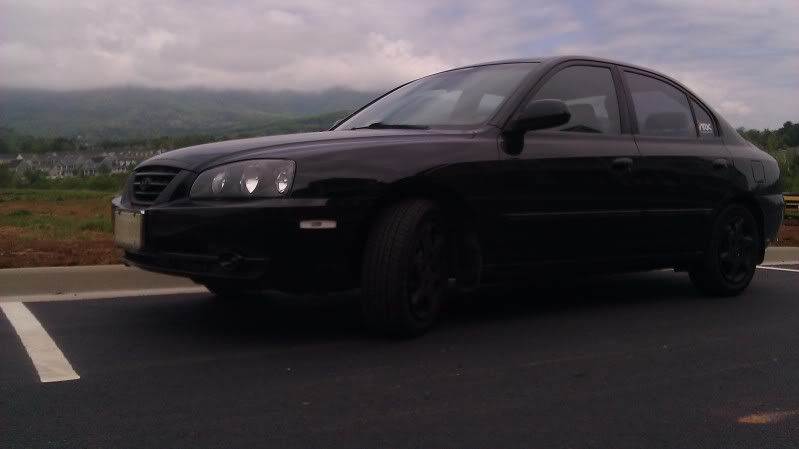 Posted by: Jessie Jun 20 2012, 09:48 AM
Definitely have an update for you guys, with tons of photos.


RACELAND COILOVERS FIT TO THE ELANTRA REVIEW:

The only Coilovers that Raceland has for any Hyundai are the coilovers for the Tiburon. Luckily that works out fine as the Elantra and the Tiburon have the same chassis. I ordered my Racelands on 5/15 at around 11:30 am. By 3:30 they were processed and picked up to ship out. Parts were $419.83, shipping was $58, even, so the total was $477.83. The parts themselves were delivered on 5/25, so ten days went by. When I ordered them they automatically gave me a tracking number within a few hours and my receipt was immediately sent to my email.

Well I got a text that they had come in and I freaked out.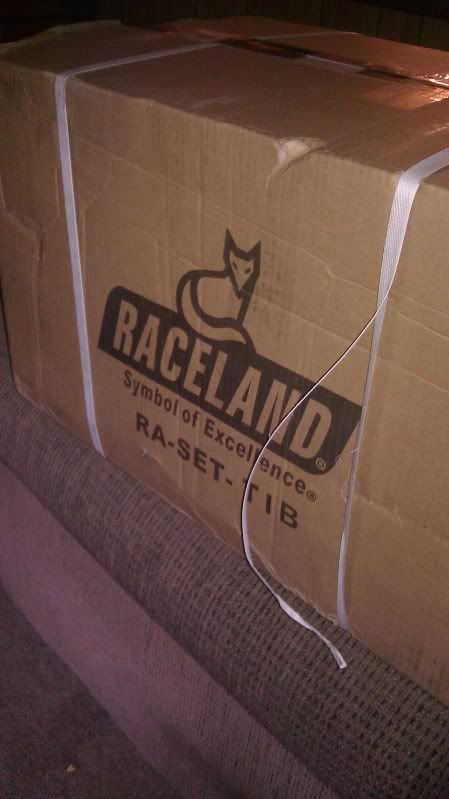 I wish I could have/would have taken photos of more than just the box.. BUT it happens, so I stole these.. (photos courtesy of Raceland's website).




They were packaged very well, each coilover wrapped in its own plastic and secured in it's own box within this huge 55 pound box.

By tuesday, they were on the car. Randy, the mechanic, had called me in to show me that no matter how high he set the coilovers they would still lower the car. I told him to jack them up as high as they will go and call me when they were done. He called me and told me that he inspected these things thoroughly and they are very well put together and made using high quality materials. And that my car was done.

I almost didn't recognize my car at first, partly because it was dirty, and also because it was so LOW. It looked like it was hitting the pavement. I paid the $190 for install and alignment and ran to my car and just looked at it with the stupidest smile on my face. Sadly I didn't have my phone charged enough to take photos and I had to get to the store, so I hopped in and drove out of the lot and headed on my way.

First reaction: "What the f*ck did I do to my car?" Uh oh. This thing just bounced around like I was on hydraulics. I pulled over and let the car idle and checked everything to make sure I wasn't already cutting into my tire. Pressed on each corner to see if the bounce was the actual car or just the mechanism settling down, and the car stayed stiff. I couldn't push it down at all. So what was with the bounce?

Decided to take it to the highway for a few minutes to see what the higher speeds were like, and as soon as I hit 40mph or so, everything smoothed out and the ride was back to normal. I contributed the shakes to everything trying to find it's place in the car and settle down. As the days passed, and with me taking everything slowly and cautiously, the bumps and shakes settled even more. As the heights started to even out, is when I saw everything begin to take on a new height and look.

The very first photos I took after the quick drive on the highway: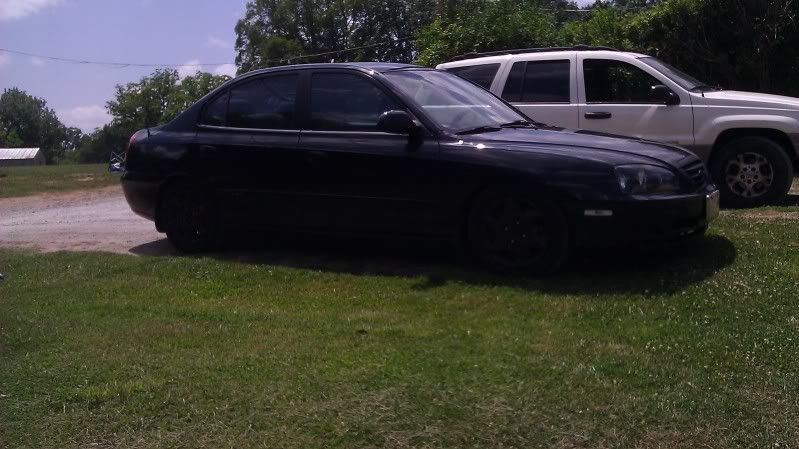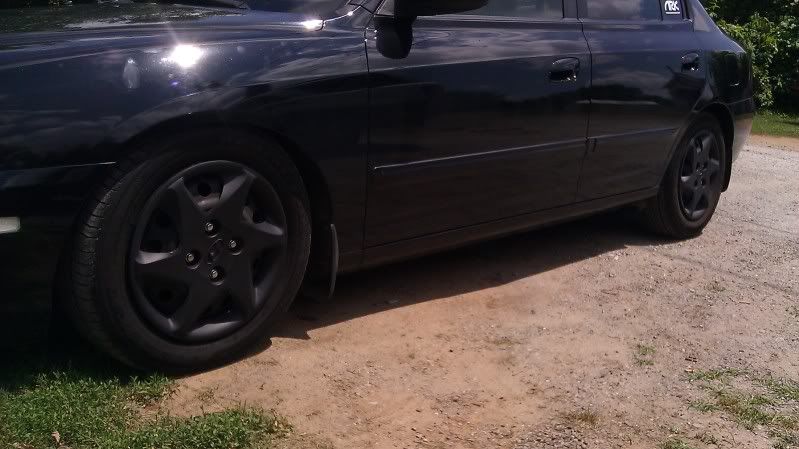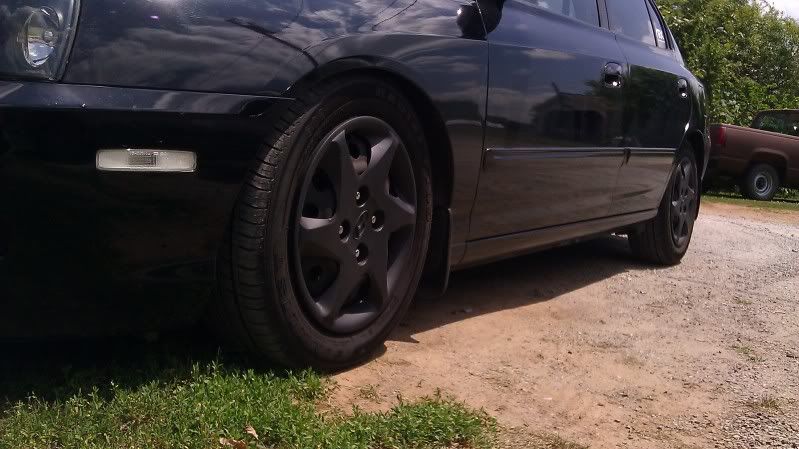 More from the first day: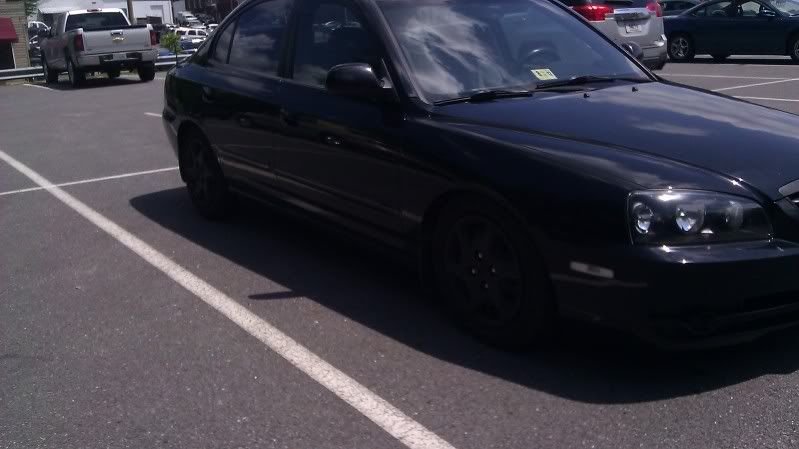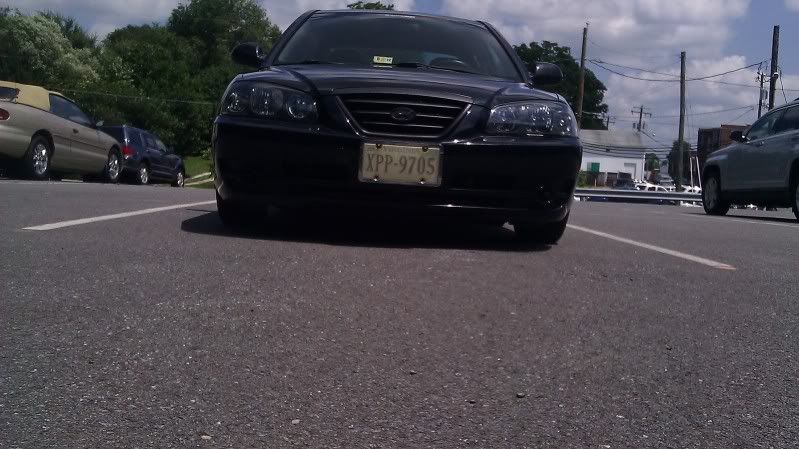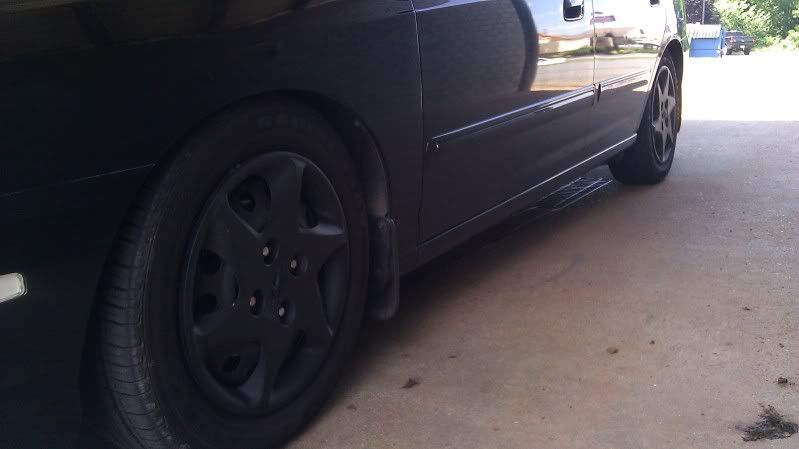 Tow hook position from the ground: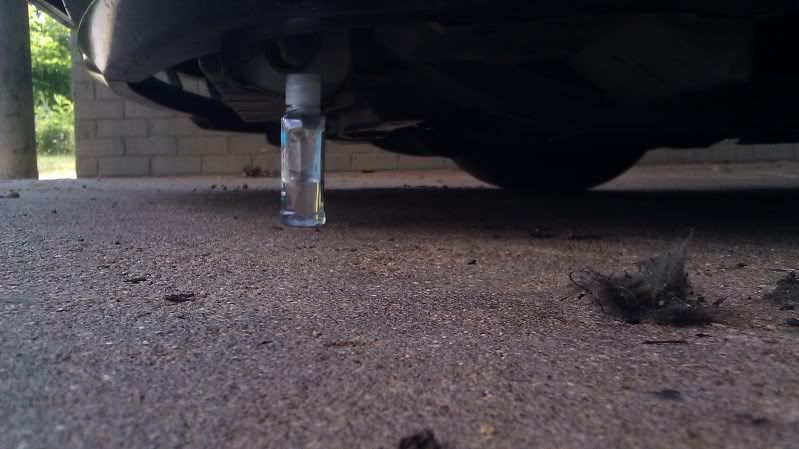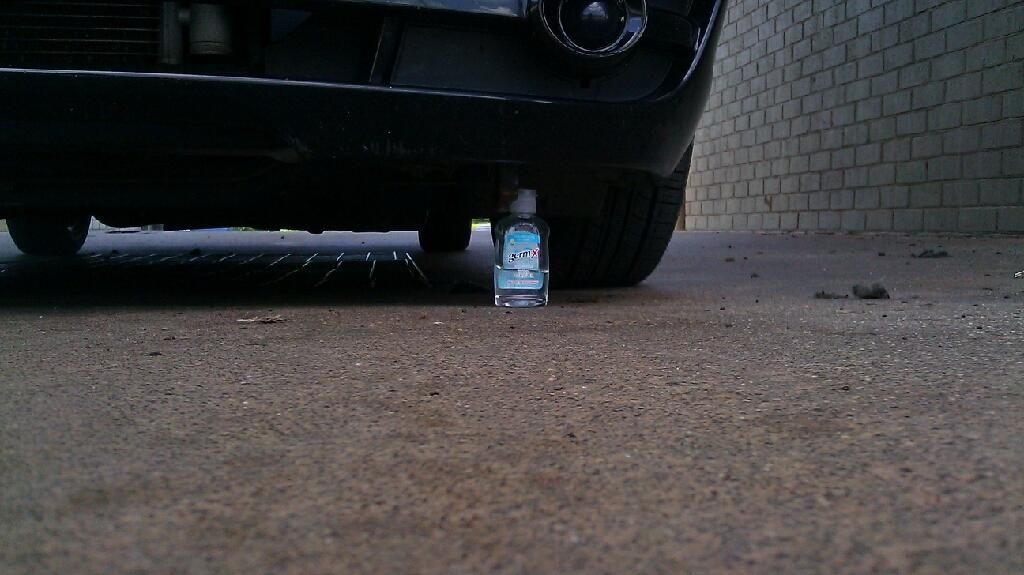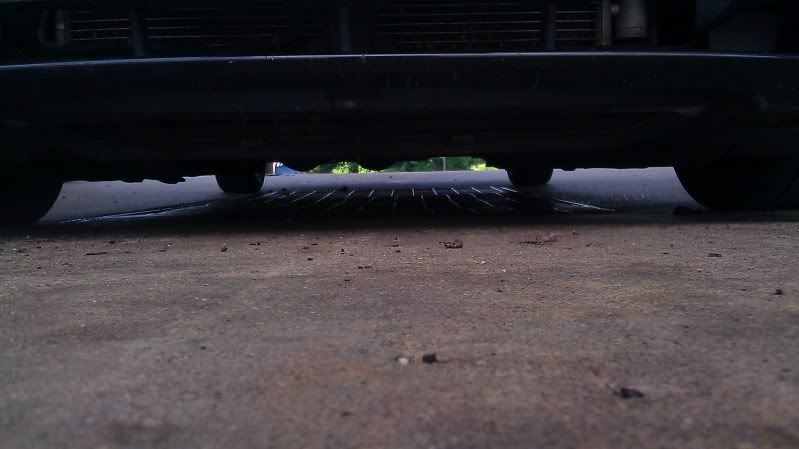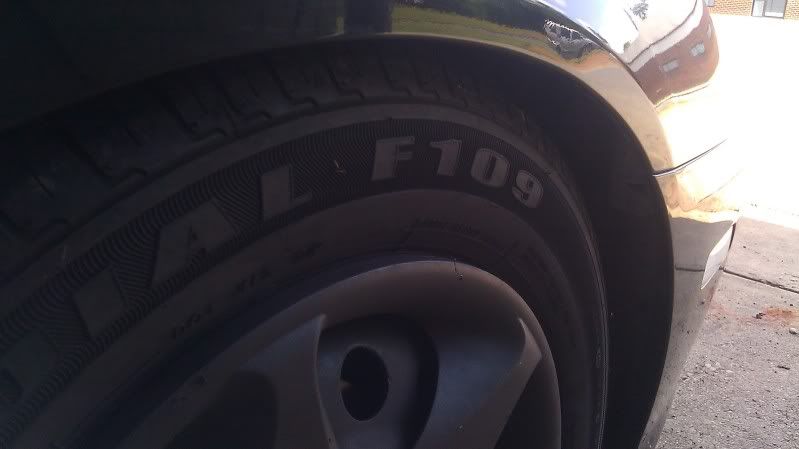 Also to note about the above photos, the sanitizer bottle is around 2.5" to 3" to where the tow hook reaches, not the whole bottle. But the bottle is from a casing that I keep on my keychain, so it's decently small.

With the fronts turned, I can't get my finger in the fender well. I hit the tire:



After a few days of just continuous driving around all sorts of roads that we have here, short trips maxing maybe 15 minutes each every time, I started to recheck the clearance, the tires for "battle wounds", and any sort of damage. I didn't find any. What I did find out is that the gap in the front was much lower than the rear, and as the car continued to settle, it evened out a bit more, but it's still taller. It just means that I'll have to adjust them and then get another alignment. AFTER YOU ADJUST THESE, EVERY TIME, IT IS HIGHLY SUGGESTED THAT YOU GET AN ALIGNMENT.

This is how the car sat before my first "long" trip up to Crozet: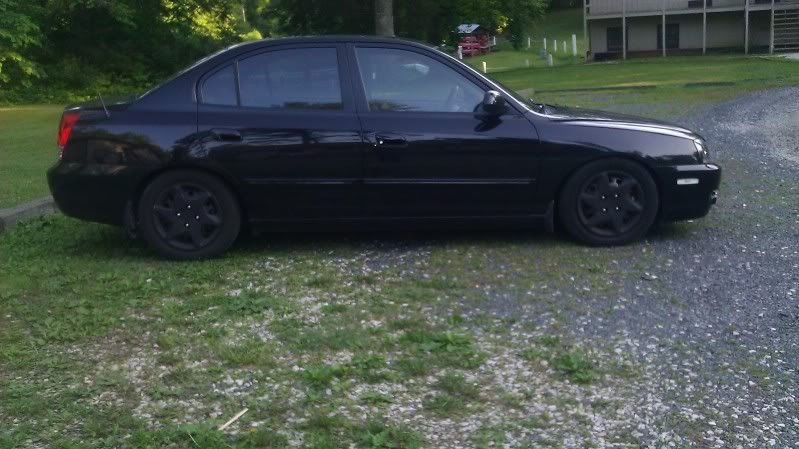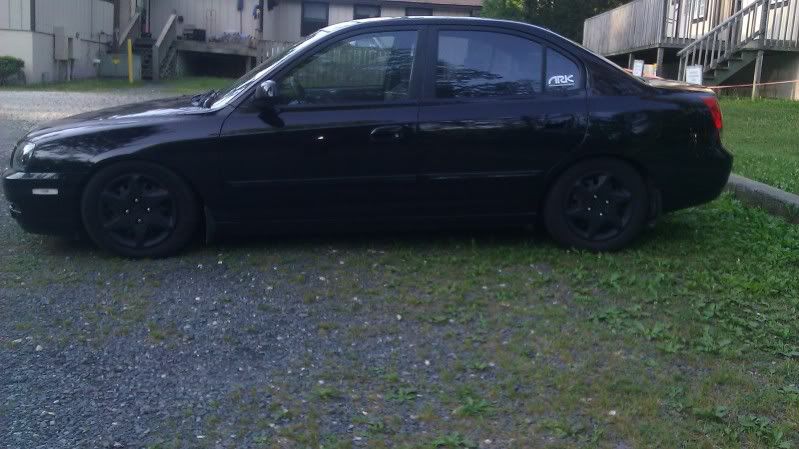 REMEMBER! These coilovers are literally jacked up as high as they will go at this point, and this is how they settled on my car. That means that they can only go lower. I'll also have to remove my mudflaps/guards and I'll be hitting pavement before I hit the end of the actual coilovers allowance. I also want to note that how they react with my car may be different than how they react with anyone else's.

I have scraped. Badly. I've had to avoid areas to be safe. I've had to back out of the entrances or exits to places and find other ways around, to the anger and annoyance to those behind my car. I've also had to just not go into places because I can't make it into the parking lots or down the streets because of the dips or damages on them. It sucks pretty bad. I also scrape and drag as I head into my driveway at the Crozet house. I'll probably find a way to fix that at some point soon by building mini ramps for me. Hahaha.

All in all, I'm very happy. I spent $500 for these, and although I've never been in another car with coilovers, these are perfect for my needs. Much better than spending over a grand or so for others that I may not like. Or I may like them, I don't know. You don't know until you try things, and I've tried these and I can say that they fit my needs perfectly. (: I'll be adding more photos when things continue to settle and they finally stop changing their heights. Hahaha.


this is what I've been doing while away for a bit. Came out to the car to find these in the back seat as a birthday gift.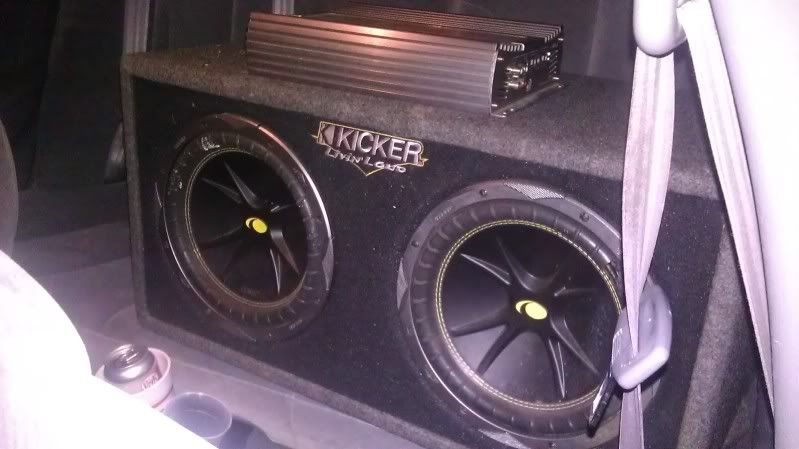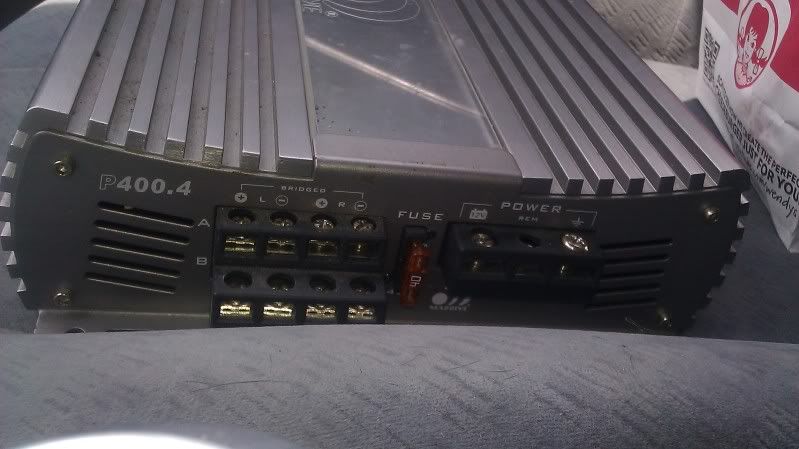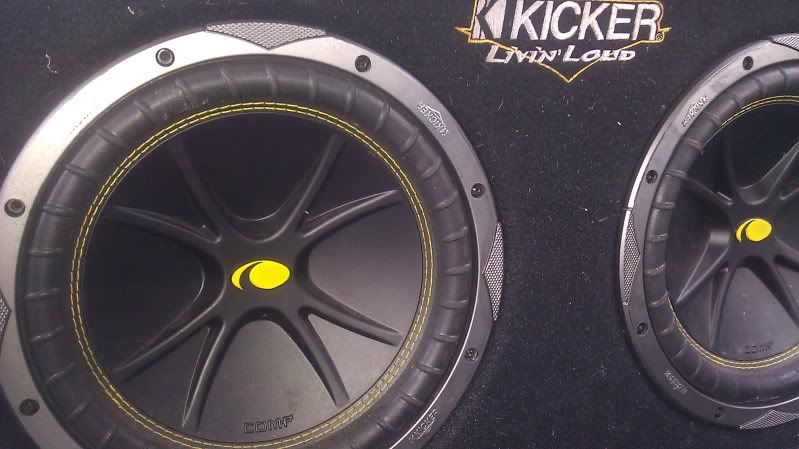 So excited. Granted, they are used and I have to fix the sub face and reupholster it, but all in all I'm very happy.

Since I recieved these, I decided it was time to upgrade the headunit and run the wires for everything as there was no point in having the subs and amp in the back not hooked up. Or to have them hooked up to the OEM unit. Hahaha, so I went out, bought the wiring, harnesses, dash kit, and a Pioneer deck that suited my needs (and it was on sale, which was awesome).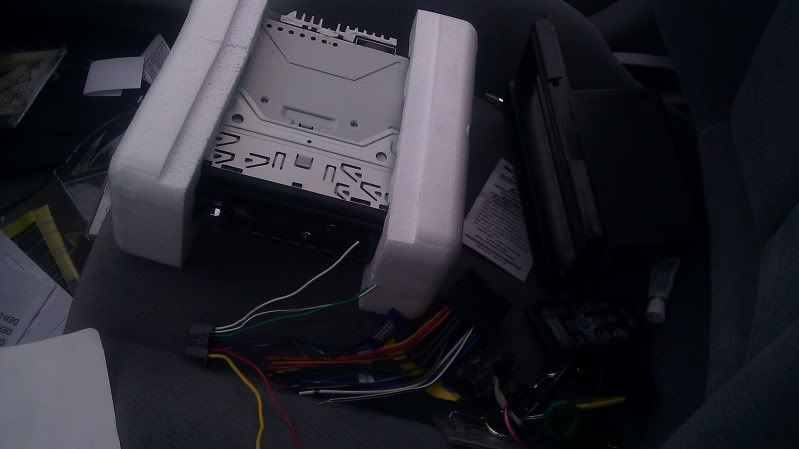 What took the longest was getting the power line through the firewall, but after that things were easier.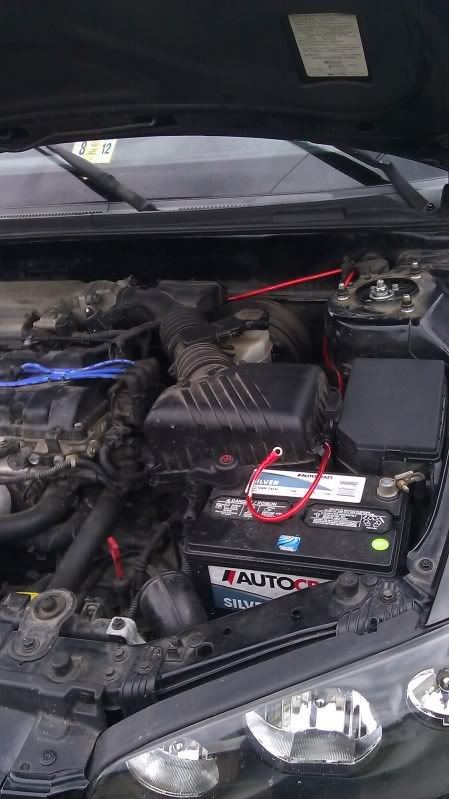 Not the easiest thing I've ever done, but I became more intimate with my car than I had been before.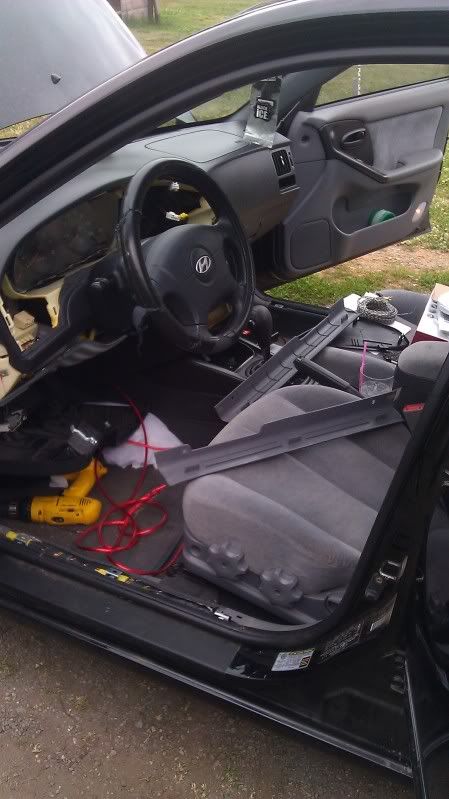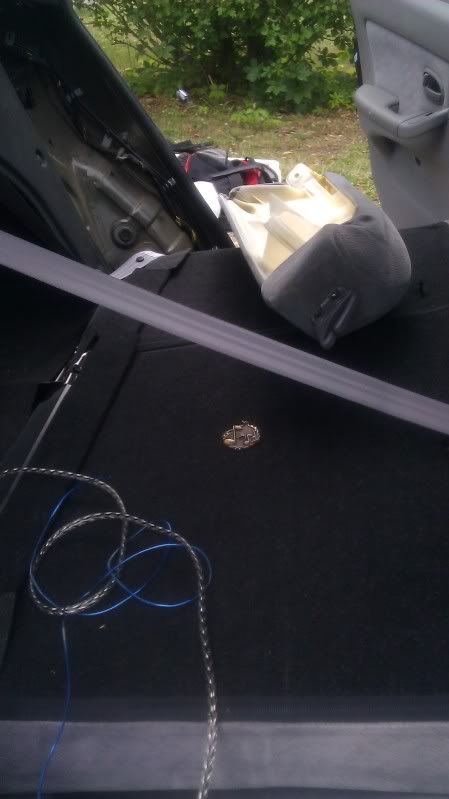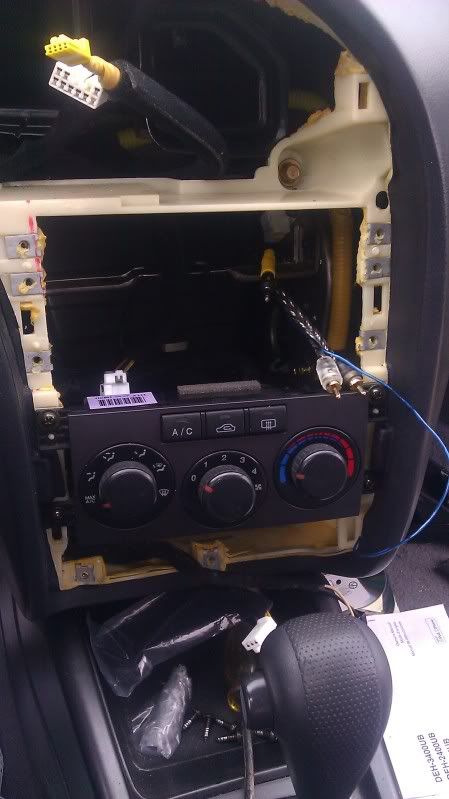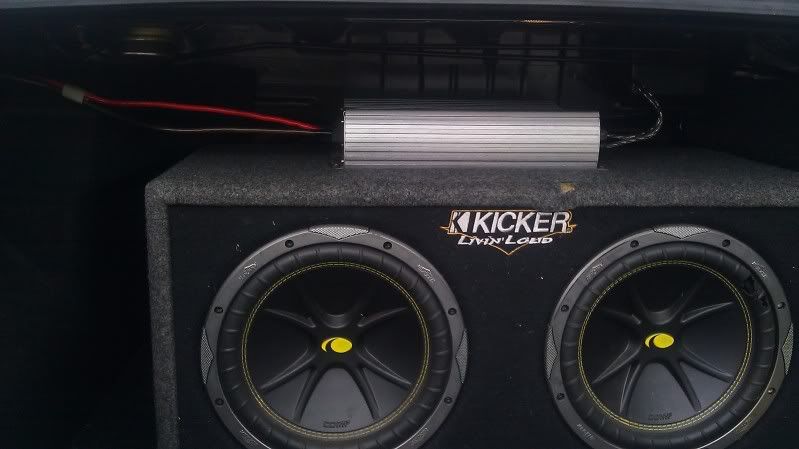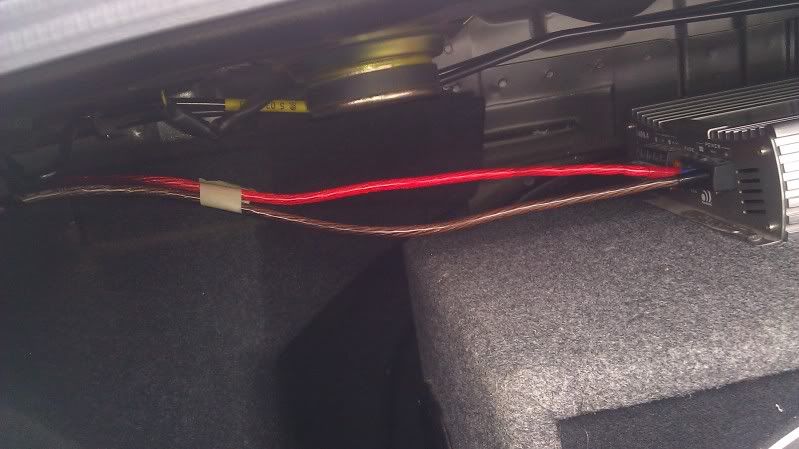 Everything hooked up: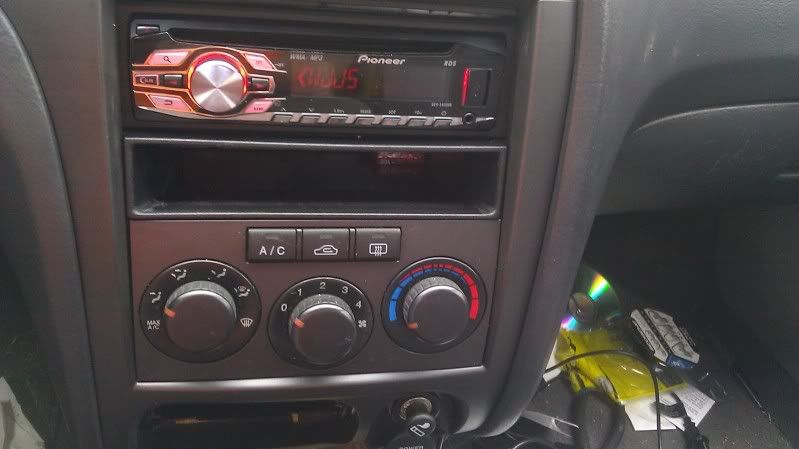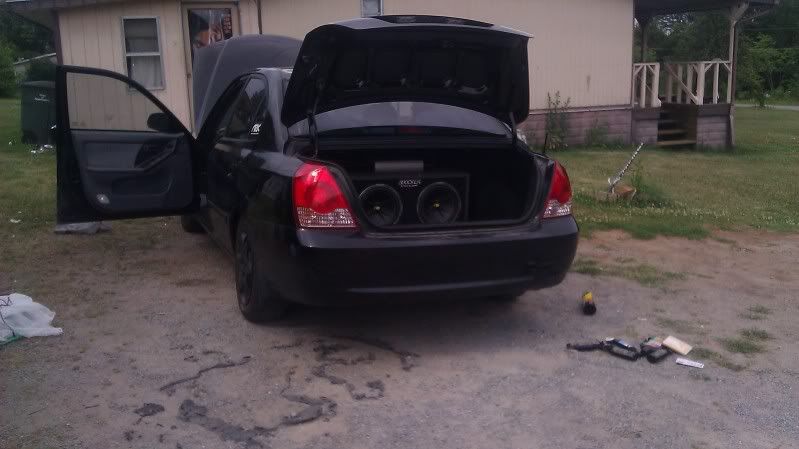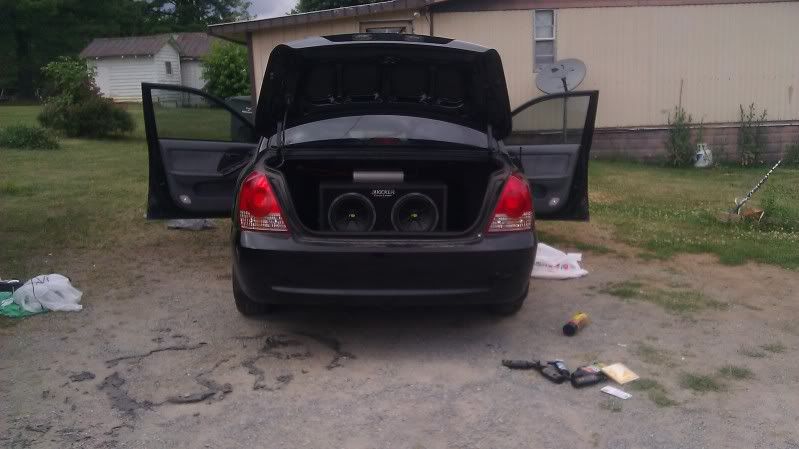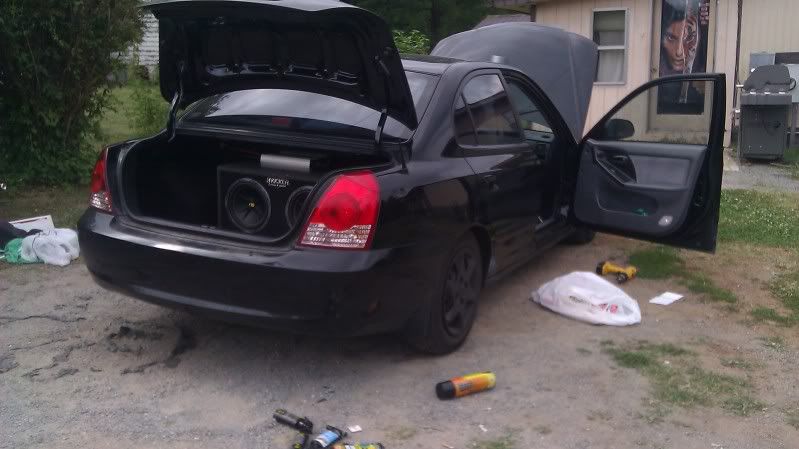 I do plan on cleaning up everything soon, I'm just having a hard time finding time to do much of anything. It took me three days to change the radio fuse when it blew.

Now if anyone could tell me why my cluster lights/A/C lights/shifter lights won't work, it'd be super. Hahaha!

Posted by: elantragt Jun 20 2012, 10:05 AM
Wow Jess... awesome update! Car looks great but definitely rides a little lower than I expected.



Posted by: Kate31 Jun 20 2012, 10:36 AM
Looks great!!

Posted by: benman Jun 20 2012, 10:44 AM
Awesome write-up Jess. The car looks great!

Posted by: Jessie Jun 20 2012, 11:08 AM
Thanks guys! I also tinted my tails, finally. (:

(Excuse the dirtbike, I pulled the car into the garage because it was raining.)
This is with the left side of the tint on: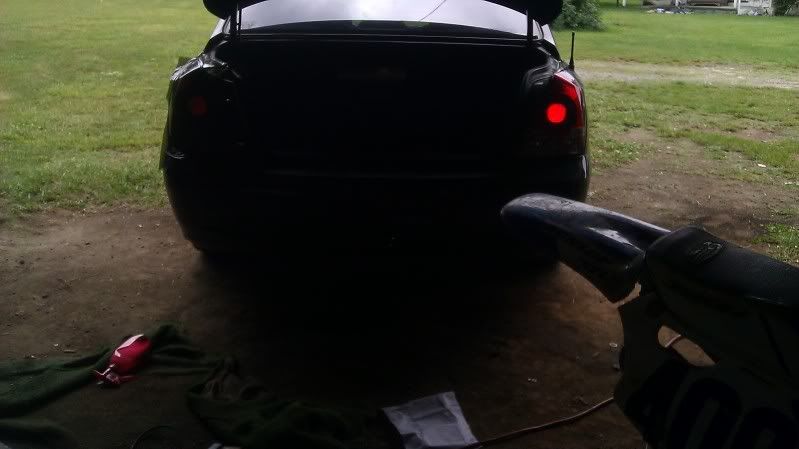 And with the lights on to see the light differences: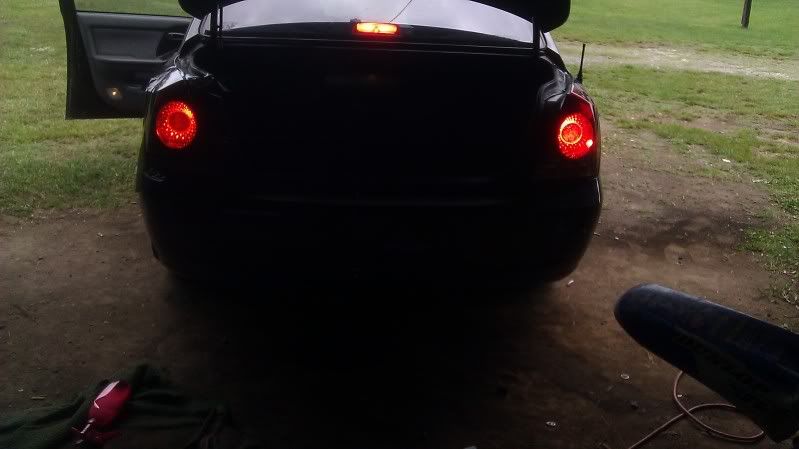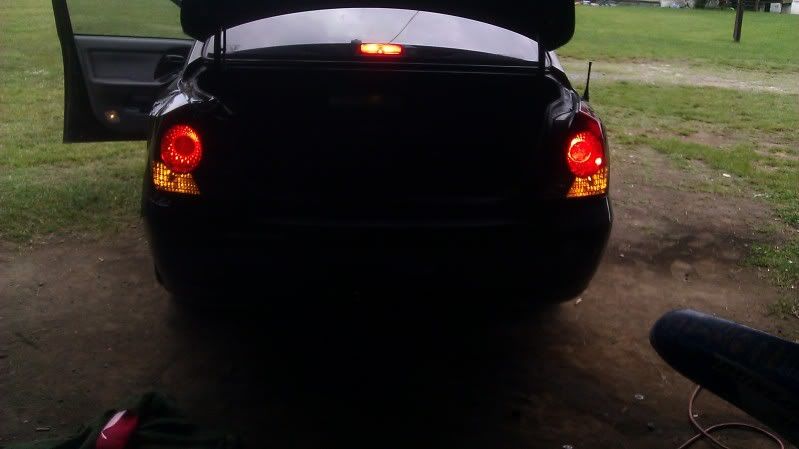 Here they are in the sun (letting them dry out a bit before I trimmed it up).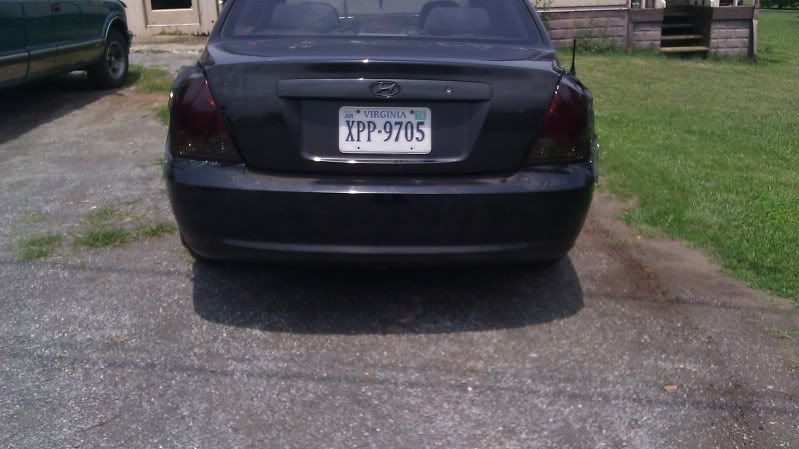 My car looks like a gunmetal gray color. Detailing the car is going to be a horrible job.
I took these at work to be able to see how well he tails blend into the car now.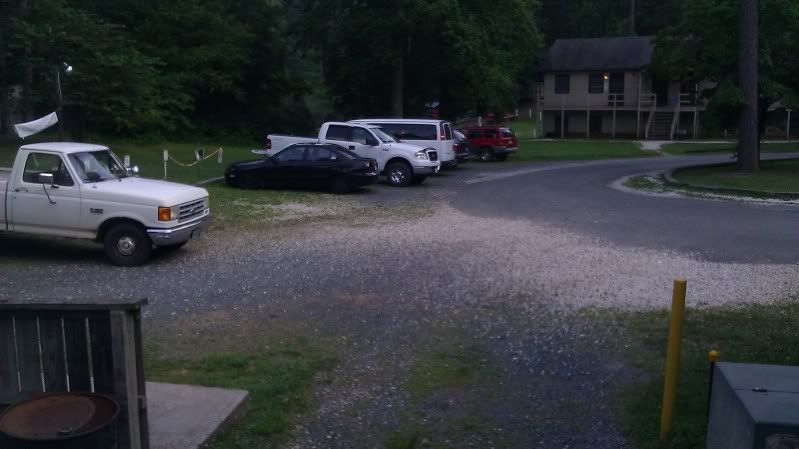 I highly suggest having a friend help you. This was insanely hard to do by myself.

The last things to do before the meet, besides washing the car (ugh) is repainting the steelies. They're peeling a bit.

Posted by: hyundave Jun 20 2012, 05:19 PM
Startin to look damn nice for this meet Saturday!

Woot!

Posted by: Jessie Sep 12 2012, 03:26 PM
Well, since I can't add photos to my garage (YET!) I'll update you all here. There aren't any real changes, just newer photos. Some from the meet, and some just because. (: And I used the Turtle Wax Black Box for those of you wondering. I am now an absolute fan. Look at the mirror finish!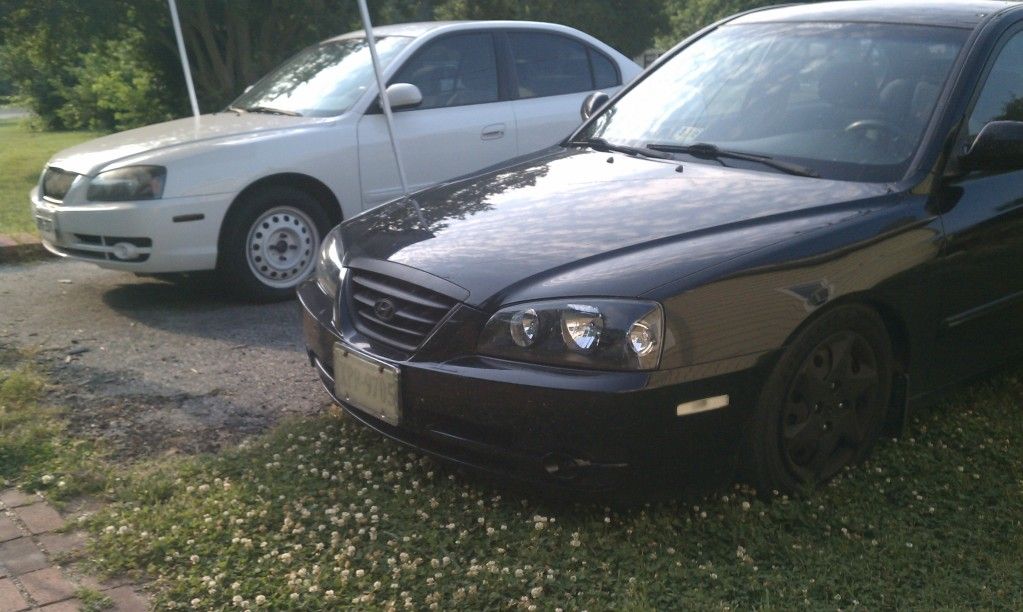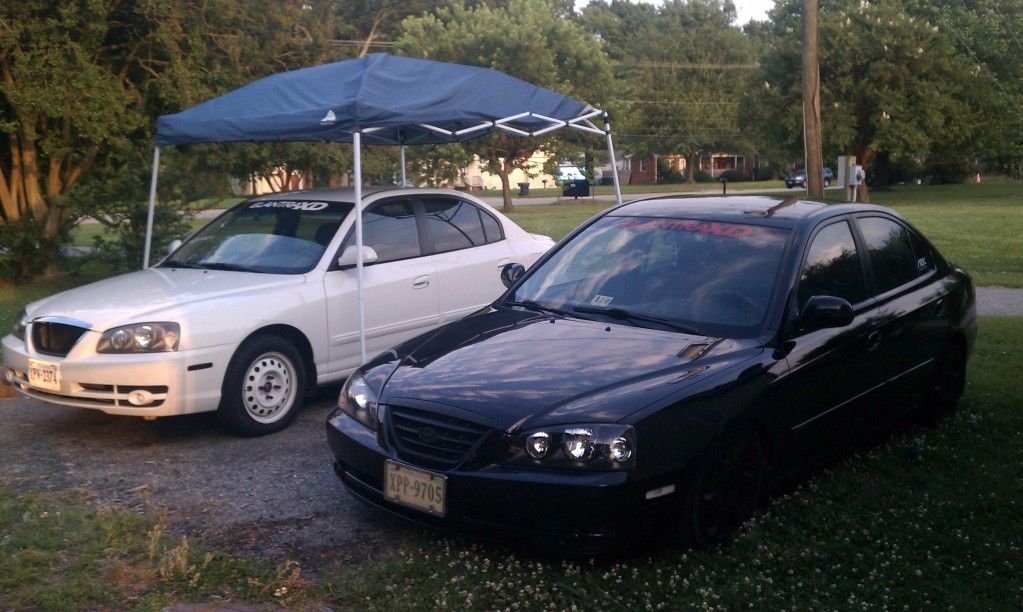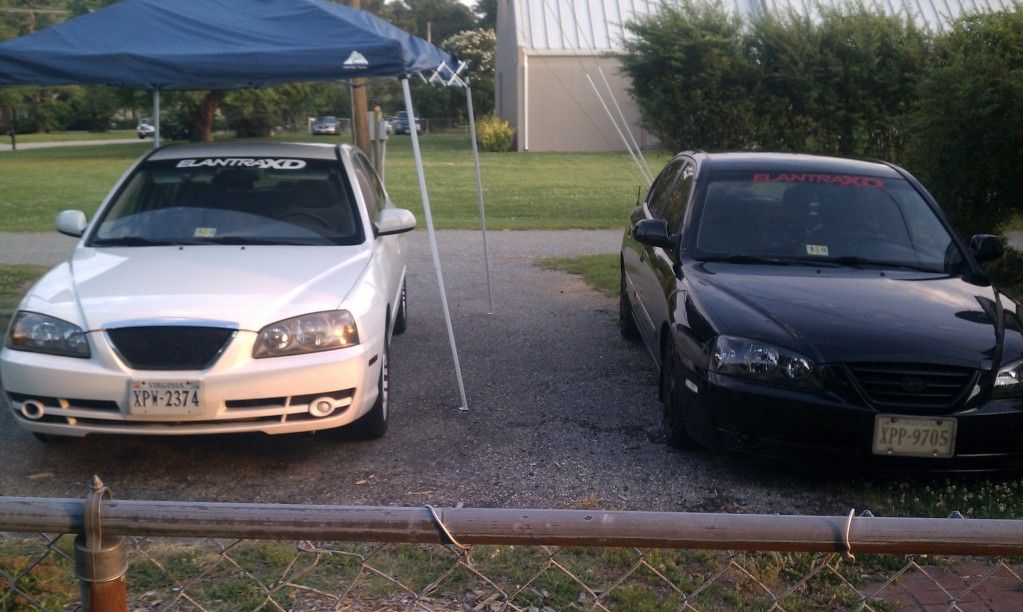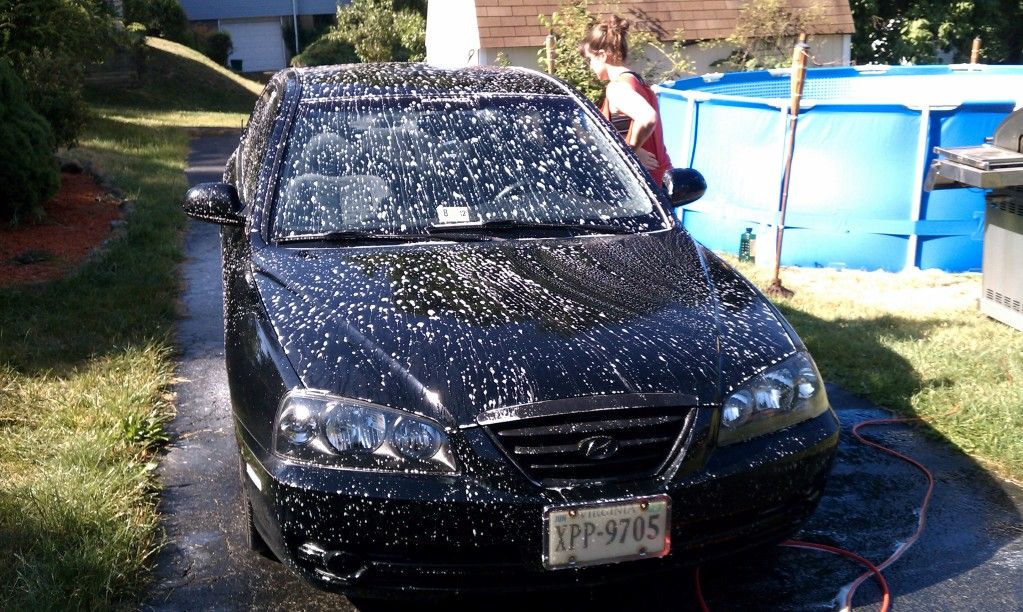 and that's not a drop cord. It's the pressure washer hose.

Posted by: Alex2013GT Sep 12 2012, 03:57 PM
Love the new pics!

Posted by: mbenz Sep 12 2012, 04:09 PM
can we say dumped we just need camber <3

Posted by: Jessie Sep 13 2012, 06:54 AM
Thank you so much guys!

Most of those pics are from the photographer that was hired for the meet. The last one was while I was washing my car for the meet. I look frustrated. Hahaha.

Mbenz, its pretty low, and I LOVE it. And hopefully my GT rims get here soon. As for camber, I only have it set on the front right now at about a -.5 to save my tires. Don't want to have to buy new tires yet! Thank you, though. (:

Posted by: mlumz Sep 13 2012, 01:23 PM
Your car makes my black EGT look like a crackhead. Your car is so clean and shiny. I definitely need to tint my tails, it looks so nice with the black on black look.

Posted by: Jessie Sep 13 2012, 04:08 PM
Mlumz, try the Black Box from Turtle Wax.




That's what I used before the meet and those pictures were taken. It's a tinted cleaner/wax, so is helps fill in small scratches, or at least blend them in more than just the standout white, or primer color they are now. I will advise using an orbital buffer with it. It really helps get it into the paint and just make it shine. (:

Posted by: Jessie Oct 2 2012, 12:44 PM
Just a quick post about the car:

My car versus my roommates's truck. Hilarious, really.




I rode in her truck to the barn to take care of her horse with her, and today she's going to be riding in my car. Going from a truck with a turning radius of a tractor trailer to my little "whip" it will be a fun experience for her!

Powered by Invision Power Board (http://www.invisionboard.com)
© Invision Power Services (http://www.invisionpower.com)