2000 Elantra GL Valve Cover Gasket Replacement - DIY
The usual
Disclaimer
: Please attempt this replacement procedure to your own risk, as I provide this solely as a reference to Hyundai owners with similar models that want to take mechanical matters in their own hands. I'm not responsible in any shape or form if you have a negative or faulty outcome if performing this on your own. With the disclaimer out of the way, here's my story.
My valve cover gasket leaked for quite some time, so I finally decided to replace it. The part itself is below $ 20 (depending where you buy it), but the dealership wanted about $ 180 to replace it... I understand they have to pay the electric bills, the gas for their shuttle vans, the wear and tear on their loaner cars, the big salaries of the front office people, etc, etc, but $ 40/hr rate (if you don't have much cleaning to do, I suspect the job is rated at 4 hrs) is too steep for my back to sustain their expenses. So, I decided to DoItMyself.
In retrospect, I should have purchased a GENUINE Hyundai part, and not an aftermarket gasket. The gasket I purchased from Arizona Autohaus is much thinner, as you'll see in the pictures. Probably if it will fail; probably it will not. (
Update - 4 months later the gasket doesn't leak anywhere
) However, if it fails, then next time I will buy one from HyundaiOemParts.com (I guess is part of the Delray Hyundai website, if I recall right), or RockPartsAuto, or directly from the dealer - of course if their price is not "beefed" up...
I tried to explain everything thoroughly, but here's an attempt of the tools & supplies you may need:
- Valve cover gasket
- Half-moon shaped rubber seals - I wasn't aware of these, so I didn't have new ones;
hmservice.com is worthless on the subject...
You'll need
two
.
- PCV valve (if you want/need to replace it - this is a great time to do it)
- Ratchet/Wrench 3/8" drive; a short/stubby wrench is the best, as two of the TB cover bolts are difficult to remove - very limited space
- 10 mm deep socket
- 9/16" wrench for the PCV valve
- clean rags; shop paper towels; RTV Sealant - I used the dark gray one, since it is labeled expressely for valve cover gaskets, oil pan gaskets, etc - Permatex brand; Engine degreaser or WD40 (I used engine degreaser); flat head screwdriver
Signs of a blown Valve Cover gasket: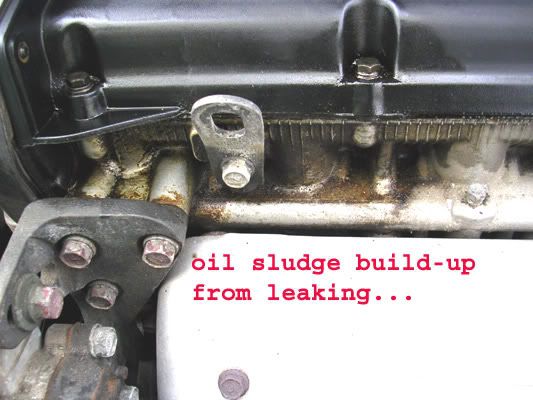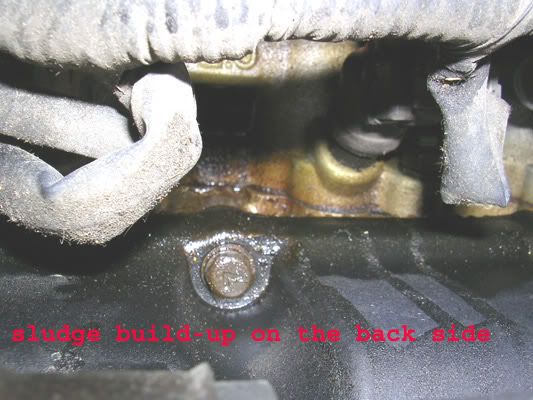 I may have also a leaking spark plug seal, but I wasn't aware that these are replaceable;
As I said hmservice.com is worthless in some areas
... I may have to do some monitoring over time and see if the leak in the pics reoccurs, or was just vcgasket related: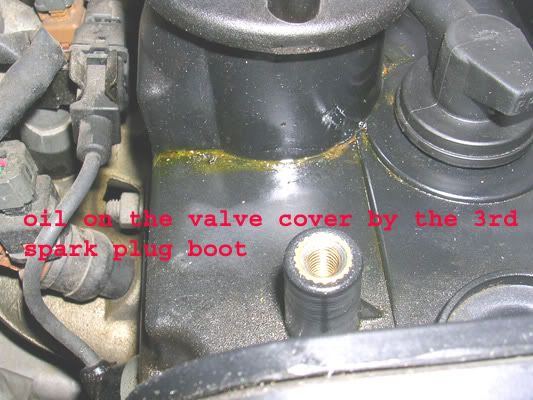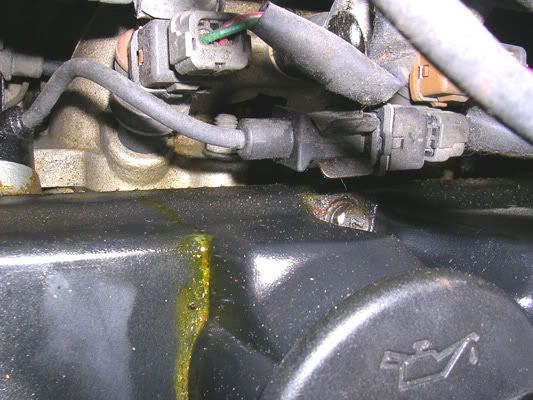 OK...
1) My first step was to remove the center (rocker) cover; as you see or already know it has 5 bolts: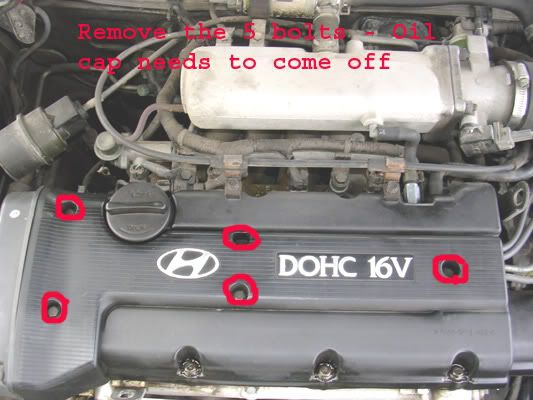 2) After removing the center cover, pull the spark plug wires and place them toward the air box. It isn't necessary to remove them from the ignition coils. That way you don't screw anything up. If you feel like removing them completely, make sure you mark them with a color marker, so you'll know which one goes where on the ignition coils. For the spark plugs side, it is less likely you'll screw up putting them back on, as are different lengths.
3) Next step is to remove the cylinder head (valve) cover itself. It is fastened with 13 (thirtheen) 10-metric bolts: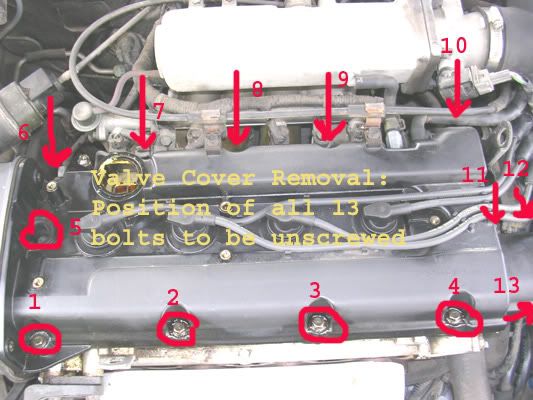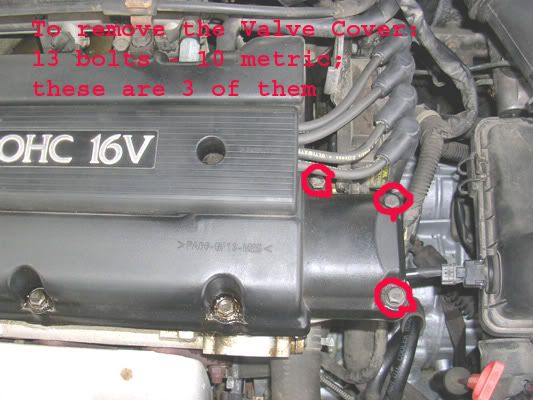 4) You'll have to unfasten the two 10-metric bolts holding the acceleration cable in place: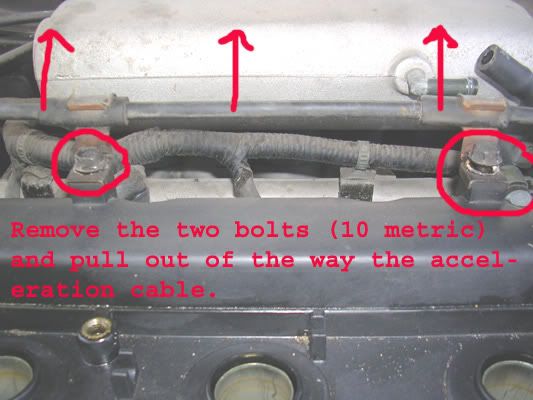 5) You'll also have to remove the PCV valve and breather hoses:
6) I elected to remove now the PCV valve - 9/16 (or 14 metric I believe) wrench:
7) You'll have to remove the Timing Belt cover, as well; it is fastened via 4 bolts that are also 10-metric.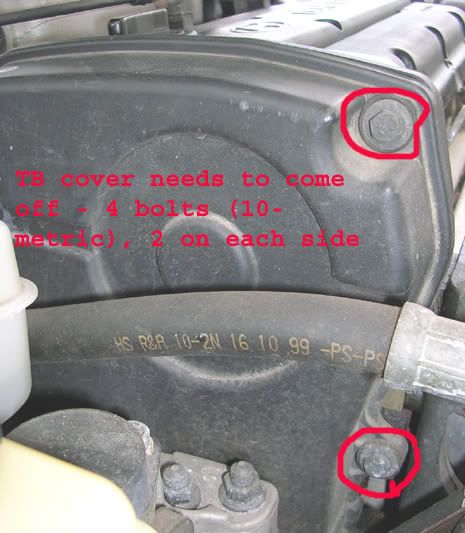 If you don't have a short/stubby wrench, you may have to improvise in order to unscrew the 2 rear side bolts:
8) Now you're ready to pull the valve cover itself off. Make sure you loosened and removed all 13 bolts. If the cover is stuck, you should be able to gently tap the sides with a rubber mallet and a piece of wood. After removing the cover and work on it, or clean it, you may want to cover the exposed cylinder head with a big rag, or just lower the hood. This would keep anything out of the engine if you work outdoors (darn birds...lol):
If you set the cover aside and elect to first clean the mating surface of the cylinder head block, make sure you don't scratch the metal. This may cause minute channels in the surface that the cover will fail to seal. Also, do not let any debris falling inside the engine block. It sounds more scary than it actually is, as you can clean eventual small debris falling inside. However, you want to prevent that from occuring.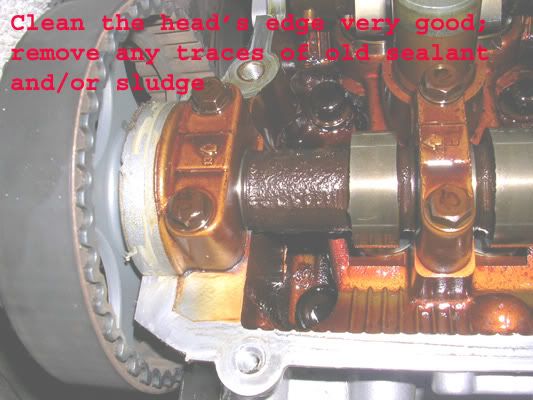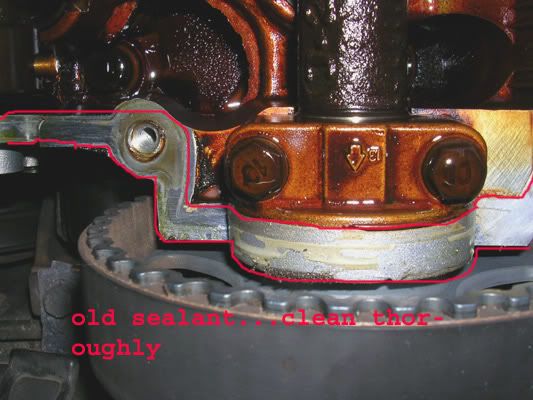 As you cleaned the debris off, wipe the surface with something like acetone or rubbing alcohol so it's oil free. Any residue could cause an improper seal.
***If you need to change the camshaft position sensor, this is also a good time to do it. Here's a pic of it:
10) Ok....Time to clean the cover itself: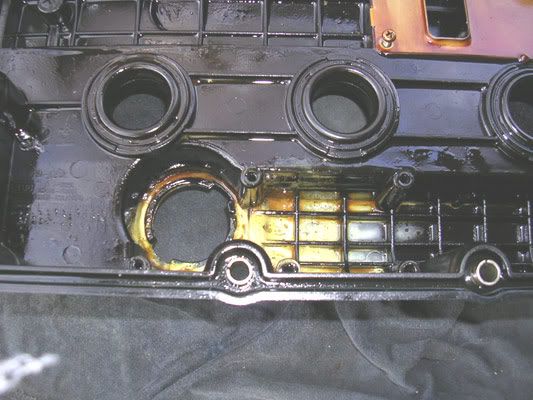 I cleaned it good inside and out.
** I haven't took pics of these, but the inside of the cover has two detachable, screwed-in mini-covers or plates. One creates a "pocket" for the breather nipple area; the other creates also a "pocket" area straight below the oil cap opening. When you add oil, you see that small plate as a square honeycomb pattern design that oil pours/falls on.
You can unscrew both plates and clean them as well.
11) Remove the old gasket; clean also from debris/oil the mating channel; install the new gasket.
As I said, my new gasket from Arizona Autohaus is much thinner, so I had to use gasket sealant all around the mating channel. If it fails, I know who's the culprit...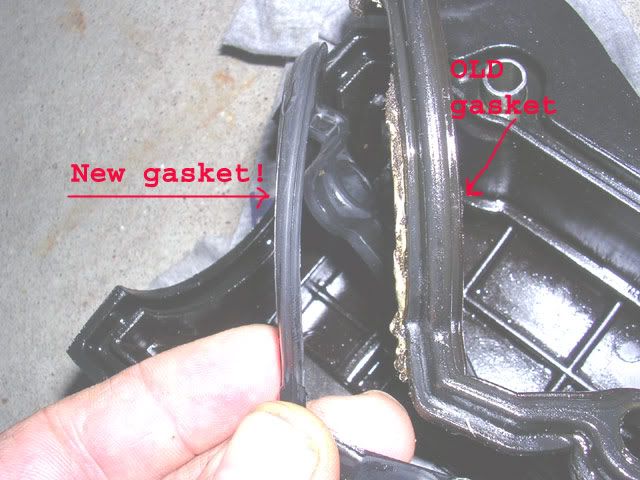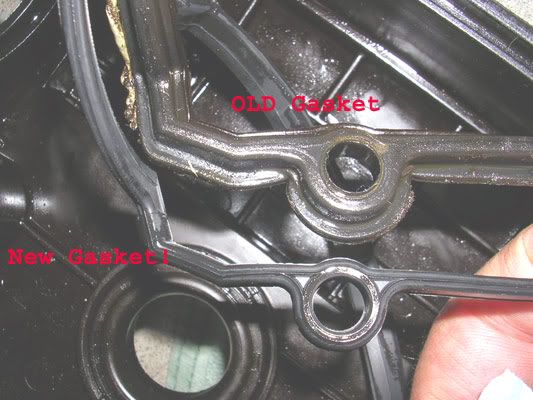 Mounting the new gasket is pretty self-explanatory, so I didn't take a pic.
12) With the cover cleaned and the new gasket fastened in, I was ready for reassembly. I put sealant all around the mating surface of the cylinder head, and I let it aerate a few minutes. I placed back the cover over the engine and tighten the bolts in a pattern from center toward the edges. I'm not sure this is necessary as the gasket is seated in that retaining channel, but it may be a good idea...
Tightening torgue should be 7 ft/lb, but I used my best judgement and feel, as I don't have a torque wrench. (
Edit
:
I have one now, as I needed for some work on my Audi's engine
)
When I loosened the bolts in the beginning, some of them were really loose; I could have been able to remove some of them by hand... Just use your best judgement and don't overtighten them.
Reassemble everything back together in reverse order.
That's all there is to it.
A few last notes:
* If you change the PCV valve (a good valve should have a rattling noise inside, as it doesn't obstruct the air/oil vapors flow), you can screw in the new one either while the cover is out, or after you tightened the valve cover in place.
* If you use gasket sealant, let it cure 24 hours. Don't start the engine and/or don't drive the car before the sealant is fully cured. Otherwise, your work may turn out to be in vain.
* Make sure you look to buy those two half-moon shaped gaskets the same time with your valve cover gasket. I didn't know about them, and I didn't have new ones. I may end up paying dearly for not having them. However, I couldn't really tell if the leak in that area was caused just by the valve cover gasket, or by the half-moon seal:
* Because the new gasket was thinner than the OEM, I also used sealant in the mounting channel that the gasket is seated in.
I LEt IT CURE for 24 hrs before driving it
. It happened that the next day I had to go out of town. Even though the sealant was still a bit tacky, after the trip it was hardened. So I suspect that the engine heat actually helps the curing/hardening process.
I monitored it for 3 days now and NO LEAKS. Mission accomplished... All my starting problems in rainy/humid weather disappeared suddenly.
A last note:
If you go the route of replacing the gasket yourself, make sure you check a parts "store" such as RockAuto.com or even...AutoZone that sells a
Valve Cover Gasket KIT
:
it comes with the 3 half moon shaped seals, and with the spark plug rubber seals
.
That's all I could think of right now. If I missed something, I will edit the post to add what's missing.
If you are detailed oriented, do a thorough job, and have a really soiled cover that you want to clean really good, set aside about 6 hrs for this replacement.
It took me from 4:30 PM to 9:30 PM, including changing the spark plugs.
Good luck and I hope this DIY article effort may help in the future at least one other person.