My driver's window switch would work the driver's window fine, but wouldn't control most of the other windows. I took the switch apart and cleaned it and it helped a lot. Here's how to do it.
Remove the switch assembly from the door panel by prying it up. This is probably the hardest part. I think there are clips at the front, back, and two on each side.
Then separate the switch from its upper trim piece. There are 2-3 clips on each side that need to be pushed in. I found it easier to use a pick and pry up the area around the tab, rather than push the tab in.
The rocker switches are held in by a pin that goes through each pair. Take a small screwdriver or a punch and push the pin half way out. I would suggest only doing one switch at a time.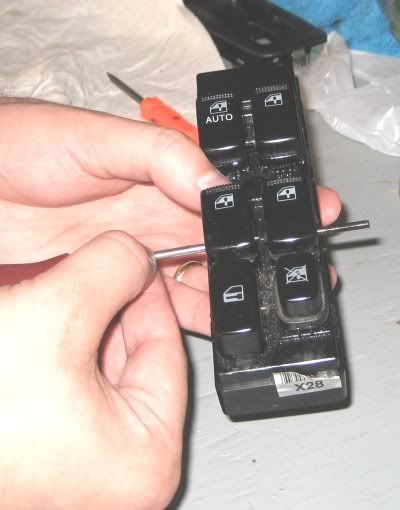 After you remove the switch you'll see a little bearing that sits on top of the spring. Don't loose it! You should take it out and set it aside while you do this work.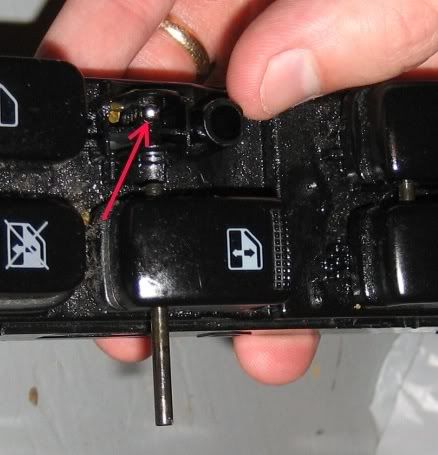 Now that you have access to whats under the switch, spray a lot of electrical contact/tuner cleaner (I got mine from Radio Shack) in there. Then hold the switch back in place and work it back and forth for quite a while. The switch has a tang that sits down into the housing and moves a slider back and forth. So alternatively you can stick a pick or small screwdriver down there and work it back and forth without using the rocker switch.
I did this to all my switches that didn't work and they all work now!
Suggestion from Doohickie, 6/19/2013
: Rather than disassembling the switch knobs, remove the switch module per above, then take the bottom cover off of that and pull the circuit board out of the module. Once the cover is off, the only thing holding it in is friction from the knob for the window lock. Take that off and the board comes right out and you have better access to the switches. I used Radio Shack electrical cleaner/lube, moved the switches to each extreme and sprayed into the openings as best I could.